Through conversations with many womxn, I've learned that one of their greatest regrets as mothers is not having documented their pregnancies. This makes me sad! I believe that pregnancy is one the most beautiful, brave, and magical experiences a womxn can have. To me, A PREGNANT WOMAN IS THE ULTIMATE GODDESS and it should absolutely be documented.
As a female photographer who is passionate about womxn and their power to create life, the best thing I can do to ensure that mothers are able to keep sacred memories of their baby bumps is to make Maternity Photoshoots more accessible/affordable. My goal is to make sure that every Goddess that is creating new life has the opportunity to be seen and celebrated.
CONCEPT/THEME
All of your magical baby bump ideas are discussed during our one on one consultation. We discuss what you like, what you don't like, the mood, the props and overall concepts together.
If this is your first pregnancy or first time in front of a camera, know that you will be guided to move and pose throughout your session. My style is natural/candid so sometimes there isn't even a need to look at the camera! It is all about capturing your Goddess essence!
SHOOT LOCATION
Maternity Photoshoots are taken outdoors under natural light, therefore shooting against beautiful landscapes and unique locations is preferred. However the photoshoot location can be in nature, in a well lit open space or private residence depending on how intimate your concept is.
Location ideas are discussed and agreed upon based on inspiration drawn from the consultation.
Travel not included, ie transportation expenses to and from the shoot location are extra (public transit, Uber, etc).
WARDROBE/LOOK
Mommas are responsible for providing their own clothing options.
Wardrobe options, colors and styles are discussed and agreed upon based on inspiration drawn from the consultation.
We shoot 1-2 looks (approx. one look per 30min block).
MEET YOUR PHOTOGRAPHER, EV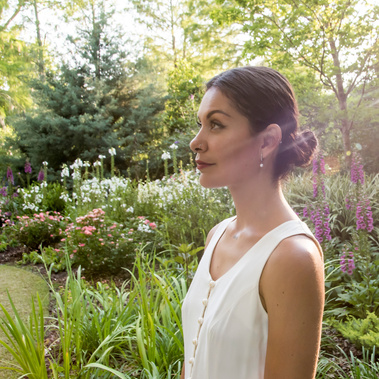 "I am more than just a photographer - I'm also a healer. My highly intuitive nature and ability to connect more deeply is the driving force behind my business. I believe in art with a purpose and my personal goal is to empower. Most people don't see their own beauty and never consider that sometimes they just need to let an artist show them a more beautiful viewpoint. The healing begins when I am able to act as a mirror and reflect my clients' beauty and essence in ways they didn't see before."

- Ev Marquee, VoyageLA Interview
"Ev was the epitome of professional from the start! Clear expectations were set, she was punctual, helpful, supportive and plain easy to work with.
My anxiety around having my picture taken translates into me being silly, goofy and not taking myself seriously. Ev worked with that, chose the photos that turned out absolutely perfect; photos that I actually felt beautiful in!"

- Hilary N., San Fransisco CA
"We contacted Ev for our maternity photos and so happy that we did! She has an attention to detail and understands how to best use natural light. Ev also put us at ease with her instructions on posing since my husband and I wanted to feel natural and not seem forced in our photos. We loved working with Ev so much. We were also extremely impressed with her prompt response and how fast she was able to deliver the photos. In addition, we loved the edited photos! Thank you so much Ev!"
Christina S., San Fransisco CA
"Ev did our maternity shoot and we couldn't be happier with the results! We chose to shoot near the Golden Gate and it was very very windy. I was bummed as I thought most of the pictures would not turn out well. Due to the weather, Ev was kind enough to give us a bit more time at the end of our session to snap a few more in a less windy area. When she sent us the photos I was surprised how she captured moments with the wind actually making my hair look good! Ev is also a sweet and kind person making it easier to be comfortable in front of a camera. Her turnaround was in the timeframe she gave, not a day later. I highly recommend Ev to anyone and will definitely reach out to her again for any upcoming photos sessions."
Ali H., San Fransisco, CA
Why invest in a Maternity Photoshoot?
As a pregnant woman, your body is undergoing incredible change; it is in the midst of transformation in preparation for one of the most life changing experiences you will ever have.
Every choice you now make revolves around your baby and family's future. So it is no longer about personal preference as it is about having some special memories years from now to look back on proudly.
Your body is creating new life, it is literal magic and that should be documented.
LET'S CELEBRATE YOU!
Can you tell me about the process?
Once you book and confirm a date, the planning begins.
We set up a 30 minute phone consultation. During the consultation we talk about any maternity shoot ideas/concepts you have and get to know each other a little bit in order to narrow in on what will suit you best.
We remain in communication throughout the entire process, covering other details such as wardrobe, location and beauty options as we go. Then when your shoot day comes, we get together and document your mama magic!
How do I book?
All you have to do is contact me: send me the dates you have in mind (to check availability) along with your location (LA and surrounding areas) .
Once a date has been confirmed, we complete a nonrefundable deposit (50%) to hold the date and the remaining balance is completed at the end of our shoot.
The purpose of the deposit is to lock your date + time. I do not lock anything into my calendar until the deposit has been made.
BOOKINGS / QUESTIONS:
Fill out the form below