Welcome!
As an artist and healing practitioner, I have always been an outside thinker with a strong pull towards entrepreneurship and have successfully been my own boss for years. In the time I have been making my own schedule and managing my own projects I've had to create systems and rituals to support my success.
There's no shame in acknowledging when we need greater support to follow through on our intended actions and life plans. In fact, there is power and courage in committing to live better and seek the guidance we need.
So, if you have the ideas and can see a more beautiful timeline for yourself and would like some support, let me guide you! I share practical and spiritual tools and resources that work for me to ensure you feel supported and get the gentle push you need to start developing healthier habits and strengthen your relationship with yourself as a multidimensional being in ways that will bring you greater peace and genuine happiness.
With love,
Ev Marquee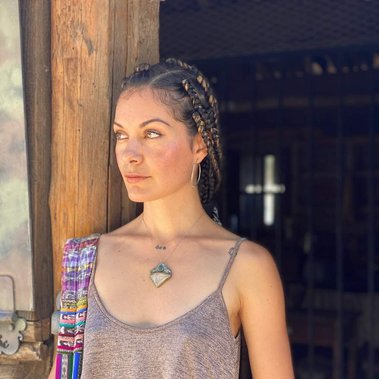 Heaven On Earth
An ancestrally-led energy work mentorship designed to offer tools and practices for both the spiritual and the physical dimensions in order to support the manifestation of your desires.
Every month you receive the following ↓
⚜ Special Trial Offer ⚜
Trial the program for 1 month and receive all the benefits for half off with no commitments.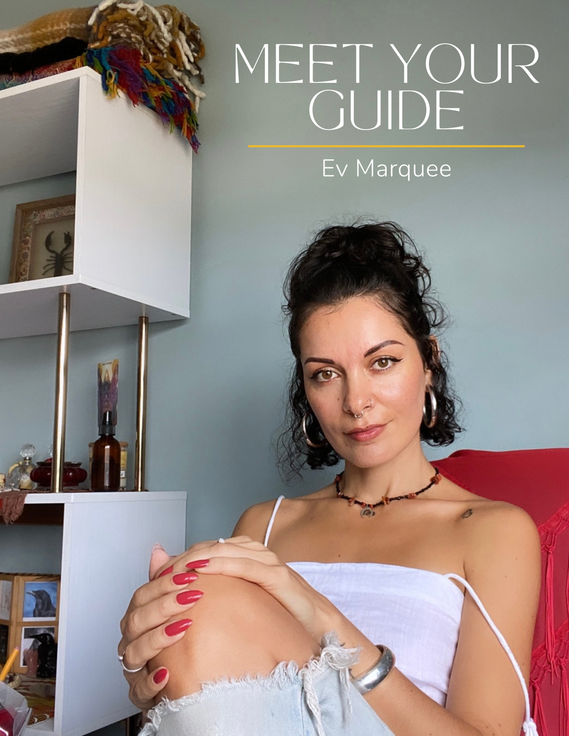 Ev Marquee is an indigenous Visual Artist, Quantum Healer, Space Holder & Beauty Path Guide devoted to sovereignty, Goddess spirituality and the ascension of Pachamama.

Part of her mission is to bring awareness to the power of quantum healing/energy work and the many practical ways in which we can protect our energy and heal ourselves in order to embody our highest selves and experience HEAVEN ON EARTH.
Background:
2011: B.A. in Psychology from UCLA
2017/18: Landmark™ Graduate - series of intensive personal development workshops and curriculum
2019: The Chrysalis Space - co-founded a nonprofit offering accessible space for personal cultivation, community building & holistic co-creation across disciplines
2020: Pachakuti Mesa Initiation - shamanic tradition and ancestral practices of ancient Peru (apprenticing these teachings under the guidance of her maestra Dr. G Love)
2020: A.U.R.A. (Angelic Universal Regression Alchemy) - training & certification as a past life regression and quantum healing practitioner
2021: The New Paradigm Goddess™ - online course and community for women
2021: Energy Is Currency - comprehensive coursework on frequency management and energy work techniques with Maryam Hasnaa and Keneth Jover
2021: Holographic Human - 9-month DNA apprenticeship learning how to heal and reprogram the DNA using sacred geometry, cymatic sound & light techniques with guides Acurda Melchizedek & Fernando Vossa
2022: The Rose Lineage Mystery School - 9-month mentorship and training with Shona Keeli apprenticing Venusian Rose Temple Arts
Heaven On Earth is for you if:
You are looking to...
✔️ develop a stronger connection with your intuition and guidance team
✔️ learn to self heal through quantum and ancestral practices
✔️ strengthen your integrity and follow through with your plans
✔️ connect and build community within an intimate container
✔️ clarify your life goals and have a guided actionable plan
✔️ build a lasting 1:1 relationship with a mentor
A WORD FROM STEPHANIE, A PREVIOUS MENTEE
"I've struggled with managing the debilitating physical and mental effects of trauma throughout childhood and adulthood and although I was "functioning," I felt deeply disconnected and disoriented in this world. I'd been to therapy for numerous years and done so much holistic inner work, yet still felt like something was off and didn't know what exactly it was or what to do about it. When I read the breakdown of what the "Heaven on Earth" program entailed, I felt like it was speaking directly to me and intuitively I knew it was what I needed. Through the program, I learned to truly believe in a world and a version of myself that didn't exist yet, but I knew deep down was always there. I learned to truly trust myself and the universe, gaining a lust for life by finding joy for the process and learning balance. I've been confidently following my dreams since starting the program and feel like the highest version of myself and know what to do to ease-fully reconnect whenever I'm feeling disconnected.

The entire program has been very helpful for me. The prayer template is a beautiful daily reminder and commitment to yourself, the weekly check-ins are motivating and empowering, and the journeys are deep healing in ways you can't even imagine, and that's what makes them so healing. The power of practicing visualizations and processing messaging so deeply, reshapes your whole being and environment in a multidimensional way.
When I first started energy work, it felt bizarre because I didn't know what I was "supposed" to be doing. After some time, I learned to just go with whatever came up and listen to myself, let it flow. Now, I quickly and ease-fully know what I'm seeing and what I need to do to connect/reconnect to myself; the process is more automatic, like breathing.
I simply feel free and connected to everything. I feel like I have the power to forge my own existence."

A WORD FROM MIGUEL, A PREVIOUS MENTEE
"Before signing up to the program, I was healing from a recent break up and forced to end therapy work due to insurance. Both "relationships" were ending and I felt like I needed additional support/guidance on how to navigate the closure and build self-trust and self-love. I was in recovering mode and I thought it would be hard to get through the situation I was experiencing. I signed up looking for a healthy and safe practice to help me build my self love and confidence. Since the program has ended, I not only healed the wounds I had, but have the tools to allow my heart to open to new possibilities. It helped me build up my confidence, and I'm able to navigate real life with so much trust with myself in the decisions I make.

The prayer templates and energy work have become a tool I use regularly. It's become a routine for grounding myself, cleansing my energy, and reinforcing my belief that I am meant to be happy. I love that I have control over my practice, I think that reinforces the strength in my intuition.
Within the first week of meeting with Ev, she mentioned the work is a bit "woo woo", and at that moment I felt that. However, I leaned into it, and it's more than meditations and mantras. It's tapping into your spiritual side, acknowledge it, trusting it, and let it become a part of you. It elevates your connection to yourself, your spiritual being, and your connection to the universe.

The imagery and the full body experience you can have by closing your eyes and tapping in is indescribable.
This program helped me rebuild trust in myself. I thought I wouldn't be able to connect with people, or allow myself to be vulnerable, but the program changed the way I saw myself in that vulnerable state of mind. I now know I am protected. I am loved. I am worthy.
The program is intuitive and focuses on what you need. It also brought to light areas that I need to work on for myself. I've learned to heal past traumas and also work on setting time boundaries.
This program is an investment in yourself. As intimidating as it may seem, because of the work being conducted, you will catch on and you will begin to make the time for it. It becomes a part of you, your identity, and your routine. "
Interested in joining the next group?
SCHEDULE
Starting: January 2024
Energy Work Calls (30min): Tuesdays/Thursdays/Sundays*
Weekly 1:1 Accountability Calls (30min): Individual Preference
Monthly 1:1 Activation Call (60min): Individual Preference
Monthly Group Journey (60min): Group Preference
**Note: Our current times for Energy Work Calls are as follows, however the final days and times are agreed upon by the overall group availability ~ Tuesdays & Thursdays @6pm | Sundays @9:30am PST
2. Send Payment for the First Month
3. Celebrate!
"Ev is so lighthearted and has a strong yet calming presence. She is so uplifting and radically authentic that it feels like confirmation that an existence like this is possible for everyone."
"I loved working with Ev. She is intuitive, caring, and was connected with me every single time! I can't believe she wasn't exhausted. I appreciate that she's understanding and non-judgemental, and cares about my growth. She always trusted that I could tap in deeper, and that trust really helped me push my abilities further. Meeting with her weekly for accountability calls felt more of a catch up/ check in, than another "task" or "responsibility". The call made it easy to adjust my priorities and focus on what I wanted to accomplish."
IF YOU CAN SEE IT IN YOUR MIND, YOU CAN HOLD IT IN YOUR HAND.
Unfortunately, it is not enough to just dream.
We must also develop the balance of grounding our dreams into the physical realm. And that takes discipline and practice.
New ways of being require consistency, however rewiring systems and breaking old patterns is easier said than done.
We can absolutely get to the core of all issues via energy work and quantum healing, but unless we are supporting the process by also "doing the work" and anchoring a new reality into the physical, we run the risk of allowing our old ways to continue to take the lead.
If you're interested in bringing this mentorship program to your coworkers, business or community, email me to coordinate a time to chat and see if this is the right fit for you.