In 2017, I completed "The Goddess Collection", a personal project that was directly inspired by my personal journey that year. The 10-part collection is a visual representation of themes/concepts that revolve around spirituality and personal growth. In order to create a raw and genuine experience, I specifically chose to photograph non-models. My featured subjects were carefully selected womxn who at the moment were mirrors to me; everyday womxn and unconventional beauties; direct reflections who became my Muses.
While working on this collection I quickly realized that although the work was personal, the healing that the photoshoots provided was mutual and resonated with many. So I now offer Goddess Photoshoots to the public; personalized photography sessions that are meant to heal, empower and invoke the divine feminine within.
(click to view full photoshoot set)

CONCEPT/THEME
Your Goddess Photoshoot is inspired by YOU.
It is through what you share in our consultation that we draw inspiration for your photoshoot as far as concept, wardrobe/color palettes, props and location.
SHOOT LOCATION
Earth Goddess vs Urban Goddess: you can choose to shoot against a beautiful natural landscape or a unique urban location.
Location ideas are discussed and agreed upon based on inspiration drawn from the consultation.
Travel not included, ie transportation expenses to and from the shoot location are extra (public transit, Uber, etc).
WARDROBE/LOOK
You are responsible for providing your own clothing options.
Colors, styles and beauty options are discussed and agreed upon based on inspiration drawn from the consultation. Hair and makeup not included.
We shoot 1-2 looks max (approx. one per 30 min block).
MEET YOUR PHOTOGRAPHER, EV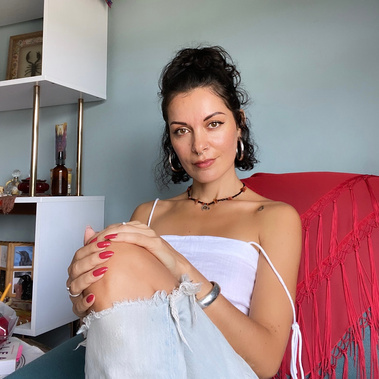 "I am more than just a photographer - I'm also a healer. My highly intuitive nature and ability to connect more deeply is the driving force behind my business. I believe in art with a purpose and my personal goal is to empower. Most people don't see their own beauty and never consider that sometimes they just need to let an artist show them a more beautiful viewpoint. The healing begins when I am able to act as a mirror and reflect my clients' beauty and essence in ways they didn't see before."

- Ev Marquee, VoyageLA Interview
"Ev is absolutely amazing. She makes you feel comfortable and lets your personality come through. This was my first photo shoot ever and Ev was so helpful with teaching me how to pose or she would just capture natural moments. My friends and family were absolutely astonished at the amazing shots that I got. Ev also recommended an amazing makeup artist who did an incredible job. I cannot recommend Ev enough! I will be shooting with her again!"
- G.H., Los Angeles CA
"Working with Ev was such a pleasure. I've received more compliments about photos from this one shoot with Ev than I've had on multiple other shoots combined. She is a consummate professional and extremely easy to work with and communicate."
Cait B, Los Angeles CA
"I love this woman and her work so much!! Ev has such a good eye for angles and lighting and contrast and all the elements that contribute to beautiful photography. Never have I felt so comfortable in front of a lens! She is extremely professional and TRUST ME- even if you feel like you aren't photogenic at all, her pictures will have you aesthetically pleased."
Jahzeel L., Los Angeles CA
What is a Goddess Photoshoot?
You become my muse, my inspiration. We communicate needs in terms of what you are working to embody and draw inspiration for a personalized photoshoot.

Imagine the Goddess within you. It is about bringing Her to life. Full manifestation of however she wants to show up as a means for personal healing and empowerment. You are a creator being and the world is your stomping ground. This is for YOU.
Can you tell me about the process?
Once you book and confirm a date, the planning begins.
We connect via a 30min consultation. During the consultation we talk about any personal shoot concepts you have, your intentions, related spiritual/personal struggles, goals, etc...and use all the information retrieved as a source of inspiration for the photoshoot.
We remain in communication throughout the entire process. Then when your shoot day comes, we get together and bring your inner Goddess to life!
What if I want extra time to continue shooting or want to shoot more looks?
If you know you would like to shoot more than two looks/changes, we can discuss this during your consultation and extend your session if necessary ($100 per additional hour).
If during your session you decide you'd like more time, we can do so at the same rate, if time allows.
How do I book?
All you have to do is contact me: send me the dates you have in mind (to check availability) and your location.
Once a date has been confirmed, we complete a nonrefundable deposit (50%) to hold the date and the remaining balance is completed at the end of our shoot.
The purpose of the deposit is to lock your date + time. I do not lock anything into my calendar until the deposit has been made.
Can I bring an assistant or friend to the shoot?
Absolutely! You are more than welcome to have someone on set to be part of the shoot or to assist with it, but please let me know in advance.
BOOKINGS / INQUIRIES / QUESTIONS:
fill out the form below